amethysting.livejournal.com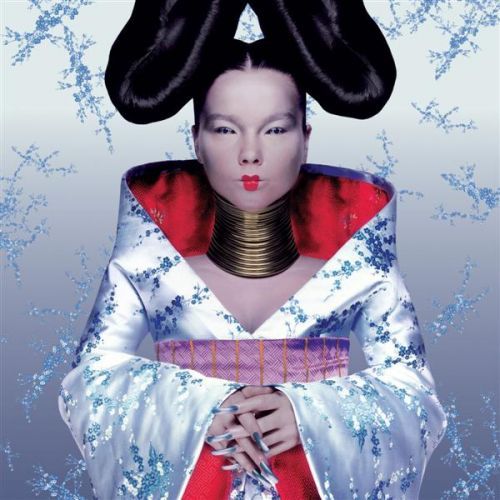 Hunter
Bjork
Homogenic
1997
Bjork consistently pulls off a kind of artful creepiness. Case in point:
Homogenic
's album art and the
music video
for its opening track, "Hunter". When I was trying to come up with associations between creepy and music, a bald, writhing Bjork immediately came to mind.
I remember seeing the video for "Hunter" for the first time. I was with Erin. I think we were just about to leave her house because, in my memory, we are standing in the living room. The TV was on. A commercial was replaced by silence, a white screen, a sound like feet pattering, and then--faintly, gradually coming into focus, the image of a blinking, hairless Bjork. She looked like a newborn; like something alien; something decidedly unsettling. Erin and I stood, open-mouthed, transfixed. The Bjork in the video spoke about being a hunter; she moved as if resisting something. That something is blue, digitized fur that emerges and is shaken off again and again--before it engulfs Bjork's face completely. For a strange moment, she is both hunter and hunted.
And, while the video contributes greatly to my impression of "Hunter", the song itself is arguably also very creepy. Bjork's voice sounds muffled at times. Her delivery of "I'm the hunter/I'm going hunting" is chilling, especially in its uncertainty. In layering sounds--violin, cello, snare drum, soaring background vocals, a Parisian-sounding accordion--Bjork has managed to create something that is positively eerie.