amethysting.livejournal.com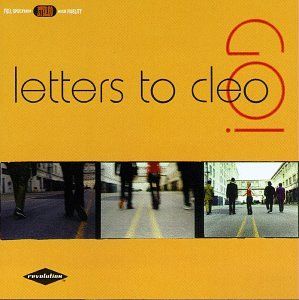 Disappear
Letters to Cleo
Go!
1997
In my experience, perfecting the art of the mix tape takes both time and practice.
By this point, I've had a lot of practice. Like reading old diary entries, I can't help but feel a little embarrassed about the mix tapes I made years ago. They broke many of my self-imposed mix tape rules...they ran too long or featured more than one song by the same artist or, perhaps worst of all, didn't transition smoothly from song to song.
I remember the difference between making a mix tape and making a mix CD. The cassette involved more math--timing the length of each song to ensure that nothing would be cut off on either side of the tape; hitting the "play" and "record" buttons simultaneously and waiting for the tape to unravel a bit; carefully choosing the song that would start things off on both Side A and Side B; painting the cassette itself with glittery nail polish and writing the track listing on the narrow lines of the fold-out cardboard sleeve.
When my Dad got a CD burner, I would make a numbered list of all the songs I wanted to include on my mix and hand over a stack of CDs. I loved the fact that the resulting mix was on a CD, but didn't like the feeling of being somehow removed from the creative process of physically compiling the mix myself--that and my Dad tended to emphasize the fact that burning the CD took a lot of time and that the blank discs were costly.
Throughout high school, CEGEP and university, most of my friends were not really into music (or, not into it to the extent that I was)--beyond listening to the radio and owning a handful of popular CDs. Making a mix tape for a friend was something special--a way of sharing the music I loved and establishing, what was to me, a kind of dialogue or firm bond within the friendship.
Letters to Cleo appeared on my mix tapes with regularity. While Sarah McLachlan was my favourite artist when I was in high school, Letters to Cleo was my favourite band. Again, I owe my Dad for this. I'm not sure if I have my story straight, but I seem to remember him bringing back
Go!
for me after seeing the band perform in Boston.
It was love at first listen.
Go!
featured all of the hallmarks I was drawn to at the time: a female lead singer; introspective but catchy lyrics; an unintimidating raucousness. "Disappear" is a stand-out track on the album and has always been one of my favourites. It was often my go-to introductory track for LTC virgins; a perfect blend of goes-down-easy pop-rock paired with knocks-the-wind-out-of-you-lyrics, "If you could disappear tomorrow, who would care?"