cabaretlights.livejournal.com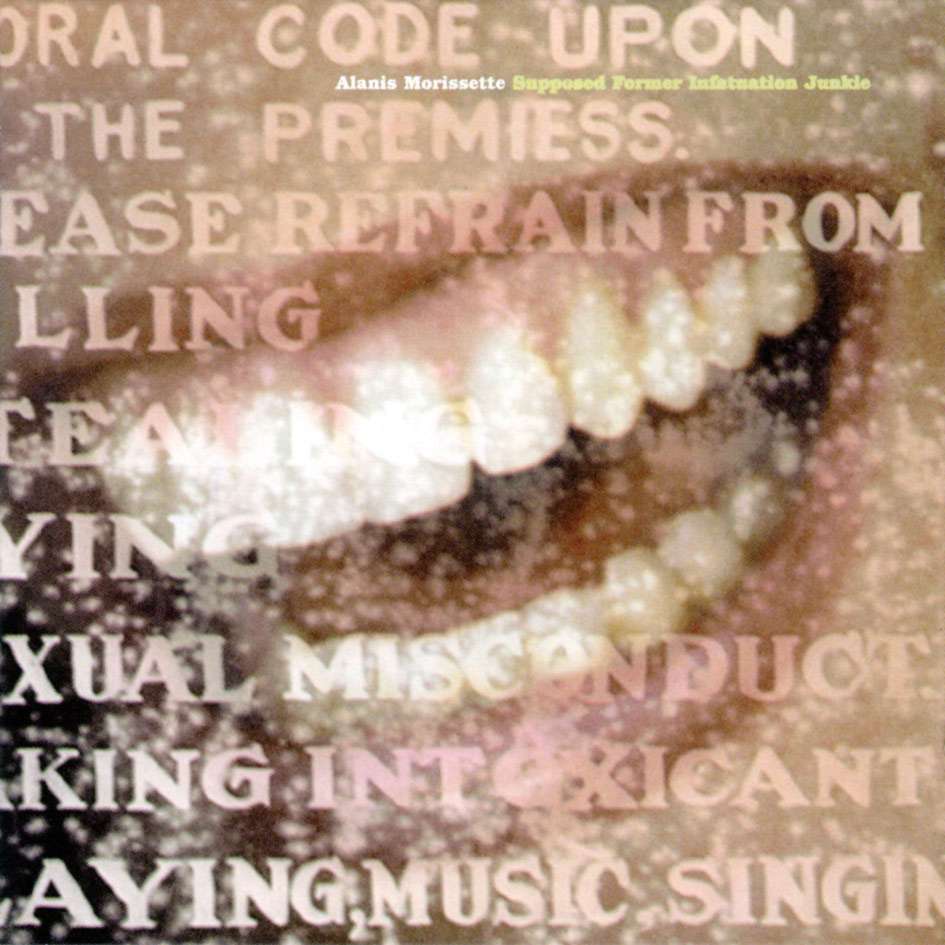 The Couch
Alanis Morissette
Supposed Former Infatuation Junkie
1998
♥
: I'm not sure if my mom's kept much of it, but our basement used to be full of camping equipment. Tents, little stoves, sleeping bags, every random wilderness accessory you can think of: my father had it, and we used it. Every summer, we would get a campsite and
reconnect with nature
(kind of silly given where I grew up, but you know). No TV, no showers, just beaches and hot dogs and family time.
I complained about it as much as I possibly could.
Well, I was a teenager, and not only that, I was a technophile teenager. A big chunk of my life was spent -- happily, creatively, and very socially -- in front of a computer. Unplugging me from my devices -- as alien as this sounds to the adult me, today -- was emotional suicide. I liked my family just fine. Did I want to spend hours with them in bathing suits, in various locations across the country? No. No I did not, thank you very much. I wanted my keyboard and my desktop folders full of pictures and my MSN Chat. But nope -- FAMILY TIME! FAMILY TIME! in big, bold letters on long, chatty car rides.
The only bit of technology I got to keep was my Discman (partially because I would have gone homicidal without it; partially because my father and I always connected on our love of music). It's funny how I haven't thought of my family's camping trips in ages until I started thinking about this post, but I remember so vividly, now -- carefully selecting which CDs I would bring in my little book, knowing that one chosen meant one forgotten (which is something I miss generally, and hate about the iPod -- I don't want my entire music collection at my fingertips. I want the thrill of having forgotten something, and knowing I'll have to wait to listen to it, even though I want it RIGHT THEN! Delayed gratification. Anticipation.). Breathing a quiet sigh of relief when I got back to the car or the tent and it was still there, no one had stolen it. If I got a break from FAMILY TIME!, on went my headphones.
I was such a child.
I don't regret a second of it but I was such a child. So naive. No idea that I would lose so much in the years to come, chief among them the father who forced us into a car and a tent and made us talk, laugh, scream-sing the entire way. I rolled my eyes as we went around the car picking games or a song to sing; Veronica and I duetting Disney songs, my father always, inevitably, picking "black panther" for 20 Questions.
There are many songs I associate with this time on the road, in tents -- albums, actually, because I would spin the whole disc in hopes of finding a beautiful song, scouring the CD booklets in hopes of meaningful lyrics, hoping my father wouldn't turn around and poke my knee to start a new round of storytelling.
Supposed Former Infatuation Junkie
was the first one that hit me when I thought back -- it would've been one of our last camping trips; I would've been in grade 9, going into grade 10, I think. Anyway this album was a favourite, and I played it incessantly, and it was largely because the first time I heard "The Couch" I could barely breathe. I loved it -- I
loved
it -- it was flawless. Musically, lyrically, flawless. I sang it in the car; forced my family to listen to it; when we got to my Aunt Susan's cottage in PEI after camping in Nova Scotia, I made everyone
there
listen to it; I knew every word, every lilt. I got, sort of, that it was one of Alanis Morissette's lyrical experiments -- she's singing from the perspective of a middle-aged man going to therapy, dealing with the traumas and trivialities of his life, the generation gap, his inability to fathom any of it.
Funny how you
get
things so differently, years later.
Listening to this song today sent me into a tailspin, years later. With perspective. With what I've lost. Every lyric strikes a very different chord than it did when I was blissfully unaware of loss, pain (though of course my little adolescent self thought she knew all about it) -- of nostalgia, existentialism. It is one of those songs that will change in meaning with every decade or so I live, one of those beautiful examples of a formative text. It will inspire a dozen conversations in the weeks to come, and hundreds more in the next few years.
Now, sitting with so much more musical and life experience than I had 12 years ago, I am struck by how brilliant this is. Like,
brilliant
. "The Couch" is a song the way
Fringe
is television --- it could not have been expressed any other way. Every note is wrought, every word is teeth-clenchingly accurate; too accurate. Too many words hit too close to home. It is a striking example of Alanis Morissette's talent and skill with her voice & pen. This will forever be my favourite Alanis song, and the older I get, the more I think it will remain among my favourite songs probably forever. I still don't get it, entirely. I think I could write a full essay about it and still have no idea who's singing, who's being sung to. A dead father, to his damaged daughter?
You could read it that way.
And back I go to camping, when I was ignorant, happy. When I had a full family and I was a little teenager, awkward but passionate, moved desperately by music and grasping at a life just out of reach. Formative.
I miss my father, a lot. I hate that he was pulled out of my family's life so suddenly, that I will never know who he really was and he will never know me. I miss those car rides, putting up tents at midnight, all four of us (and eventually a couple dogs) sleeping in a tent together, forging bonds that have stayed strong, so strong, through all of that loss and pain with which "The Couch" rips into you. I miss the simplicity of listening to my Discman in the middle of the night, a song that struck me to the core feeding into my ears, directly down into my gut. These are things I will never get back -- these are things every adult seems to wrestle with. Profound absence.
But it's not hopeless, pointless, terrible. Quite the opposite. And I put on "The Couch" and it's this twisted account of a struggling lifetime but it's beautiful. So beautiful.
And that's what I'm left with, when I think back to camping. Despite how often I pretended to roll my eyes, it was ephemeral, and it was beautiful.
And I love you more now than I ever have in my whole life.